Date Published:
 03/01/2019
Hitman. Husband. Daddy. Dead man?
Charley Fieldner has everything a man could want: a loving wife, a well-paying job, two great kids, and a beautiful home.
He also has a big secret.
Charley is a hitman with a huge complication—he is his own next target.
The background file contains the sort of details only someone very close to him could know. The suspect list is short but devastating, his wife, father, sister, and best friend. He always thought he could have it all, but the secrets, lies, and betrayals are piling up.
Charley needs time to unravel the mystery behind who wants him dead and why, but time is in short supply. Another killer took the contract. He now has a choice: roll over and die or fight for his life.
Excerpt
I step up on the platform as the train pulls into sight. The sun is just starting to rise and it's still dark. Commuters stand beside the tracks, some strewn out, others in tight clusters. It doesn't take me long to find my quarry, Alan Silverman. The guy's exactly where I expected him to be, in a group of commuters at the far end of the platform. He's easy to spot because first, he is a creature of habit and second, he has a distinctive look.
I'm about average height, five foot nine, but he's at least a head shorter than I am. In his slick, black Italian suit he looks like an oversized bowling ball with a shiny human head and stubby legs.
The train barrels in and screeches to a halt at the last moment, its brakes squealing and hissing loudly. The commuters bunch up and as the train shudders to a stop they surge toward the doors. I stroll to the far end of the platform and wait in line, well back from Silverman. The doors of the 6:10 inbound to Chicago slide open with a pneumatic whoosh. I move with the crowd as we surge up the few steps and into the train. Silverman turns to the car on the right, as I knew he would.
I follow discreetly behind. He walks halfway up the car and takes an empty seat by the window. The car is already half full and most of the double seats have at least one occupant. The seat next to Silverman is empty and for a moment I consider sitting next to him. What better way to keep track of him and appear innocuous than by planting myself right beside him? But that would be too bold. I work best unnoticed, and, although he probably wouldn't give me more than a passing glance as I sat down before returning to his paper, it's not worth taking the chance. I move past him and slide into the seat across the aisle a few rows ahead, making sure I can still see him in my peripheral vision. I don't even bother looking. The guy's not going anywhere.
The last few people scurry to find seats as the train starts moving and picks up speed. I slip in my earbuds and settle in for the trip. I have my music on shuffle. The randomness, not knowing what music to expect helps me stay focused on the moment. I close my eyes, lean back in my seat and relax. No need to even think for the next forty-three minutes.
The train starts and stops every few minutes, gathering passengers at stations in Evanston, Davis Avenue, Ravenswood, and Clybourne. Our car soon fills up and the later arrivals have to stand. I mostly keep my eyes shut and focus on the mix. First Wilco, then the Shins, then some electronica. As we pull into Union Station, it's some bad Gangsta rap I don't even remember uploading. The train pulls to a stop and everyone rushes out of their seats and herds toward the door. I'd like to hang back, but my seatmate is impatient. He stands and shuffles his belongings around. I take the hint and step into the aisle, even though the doors haven't opened, and no one is going anywhere yet.
I steal a look back and Silverman is in the aisle, too. We all stand together in a tight scrum. The heady mix of cologne, deodorant soap, sweat, and coffee breath makes me want to gag. We're much closer together than strangers should ever be. We stand this way for a long minute before the outer doors open and the scrum pushes outward.
Now we are a river, flowing out of the train car, down the steps and into the noisy bustle of the main terminal. The river keeps flowing toward the escalator, which carries us up to street level. I try and slow to let Silverman pass me, but short of dropping down to tie my shoe and risk getting trampled. I'm caught in the flow. Fast food joints and convenience store kiosks line the path. I step off the escalator and duck into one and pretend to scan the headlines of a newspaper. A moment later, Silverman marches past me without a glance. I give him a little space before stepping into the river behind him as we flow toward the street.
The stream of commuters still flows outside as we move along the sidewalk and cross over the Chicago River. The sounds of traffic and the smell of diesel fumes add to the ambience. Now the sun is moving higher and reflecting off the glass of the skyscrapers that line both sides of the street. If I were a tourist, I'd hang back and take in the beauty and energy of the city. But I'm no tourist. I have a job to do. I keep walking.
My job. I consider myself a problem solver. Sometimes the problems are small and require a small solution, and other times the problems are so big the only solution is drastic. Such is the case with Silverman. Although I don't know the specifics, Silverman is an attorney, a prominent one. He's had problems with various groups in the past and isn't the type who'd win a popularity contest. These aren't my concerns. I don't want to know too much about him, good or bad, or it may affect the way I think of my quarry and introduce emotion into what should be a pure business transaction. My employer is an agency that does all the due diligence beforehand. If Silverman's on the list, he deserves his fate. I have scruples. I trust the Agency to do the research, but I do have my standards.
It's hard to keep track of Silverman because he is short enough to blend in with the crowd and I'm not tall enough to see over it. No matter. I know where he's going and how he will get there. I've made this same trip four times now—I know what to expect. He works on LaSalle Street, but, by habit, he takes a short-cut through an alley that cuts on a loose diagonal between the two streets, past the trash bins and various service entrances, before connecting back to the main drag. It might save a minute or two, maybe, but it's part of his daily routine. It's also the one spot along the way where he is out of the crowd and the most exposed.
Sure, I know where he is going, but I needed to make sure he wouldn't get sidetracked along the way. Now I know he is on the right path, I want to reach the spot before he does. I adjust my gait and walk a little faster. I weave between the pedestrians and pass Silverman, who is huffing and puffing and doesn't pay me the slightest attention. I hurry on and, by the time I arrive at the alley, I figure I'm at least half a block ahead of him.
The alley is busier than I hoped. A truck is backed up to a loading dock, delivering supplies, and two young guys are manning their hand trucks while the driver supervises them. A little further on, three Hispanic men stand near a dumpster, smoking cigarettes. One is telling a story, using his hands to sketch out the details, and his buddies laugh. Compared to the street scene this is quiet, but for my purposes, it's Grand Central Station. I pass the men and turn the curve which leads to LaSalle Street. It's quieter here. Up on the sidewalk, maybe twenty yards away, the street traffic is a blur of motion. But right here it's isolated, and this is the place I need to be.
I position myself on the side of the alley and make myself ready. I don't think he'll see me until after he turns the corner, and I doubt he'd think twice if he does, but a man standing by himself doing nothing is naturally suspicious. I pull out my cell phone and start an imaginary conversation with myself. Now, I'm perfectly normal and fit in completely.
I'm well into my conversation when Silverman rounds the corner and bobbles into view. He probably hears me talking before he sees me. When he notices me, he swings his head in my direction for maybe a microsecond, long enough to categorize what type of alley life I belong to, and to decide I'm not a threat. Then he is back to his mission. I don't know why he's walking but he has plenty of money to take a cab, and the way he is huffing along, he doesn't seem like he is walking for enjoyment. He must be walking for his health. This strikes me as ironic.
He passes me when I call out his name and take a step toward him.
"Silverman? Alan. Is that you?"
He turns in my direction, a baffled expression creases his face. He stops and gives me the full once over. "Do I know you?"
I take another step forward.
I don't have the kind of face you'd remember. In fact, there is nothing about me you would find memorable. I've been described as doughy, nondescript, a normal kind of guy. I've been told I look like an accountant or maybe a truck driver. I'm of average height and average weight. My hair is starting to thin, and I carry a little more around my waistline than I used to, but that's not unusual for someone in their late thirties. It's considered ordinary, which I appear to be. And it's not surprising that he wouldn't be able to place me, if he ever knew me.
"Alan, remember me? Dick Olson." I take another step toward him, holding out my hand.
He's stuck to his spot, but he's not really buying it. Doesn't matter. All I need is another few seconds and a few more feet. I keep moving.
"At Gibson's. You were with Jerry, Jerry Calhoun."
I'm basically babbling, throwing out names and places I picked up from my research on him. From his expression, I can tell I oversold it. Again, doesn't matter. This is routine and it will all be over in short order. I am not a big fan of weapons. Guns make too much noise, knives are way too messy. But if you know what you are doing, and I do, hands are all you need. I'm almost within reach.
His hand dips into his pocket and he's pulling something out. It might be a cell phone, or maybe he wants to give me his wallet. But I don't think so. The time for subterfuge is over. I lunge toward him.
His hand jerks from the pocket, holding a small can. Mace or pepper spray? I grab for his neck and pull him toward me while I reach for his hand. He gasps. His chest heaves. The guy might have a heart attack before I can kill him.
The spray hits me. Sudden pain. Intense, shattering pain. My eyes tear, my lungs burn, and I can't breathe. Pain is everywhere. My grip loosens and Silverman twists free. I drop to one knee, but I grab for him again, or at least where I think he is, because I can't see a thing. I grab at the air and his heavy footsteps pound the pavement, running now. His locomotive breath is so loud it seems to echo off the walls.
I lurch to my feet and head after him. He's heading toward the street. I have to stop him before he
reaches the safety of the sidewalk. This is a disaster, a royal fuck up and I don't even want to think about what will happen if I botch this job. He's running, but even in full panic he's no runner. I stagger after him. My vision's blurred, and the pain is just as intense as before, but I force myself to run though I can hardly maintain my balance.
I hear him in front of me as much as I can see him. I'm gaining on him, but even as I bridge the gap between the two of us, the street sounds grow louder still. We are nearly out of the alley and close to the sidewalk. The busy street means safety for Silverman. Surrounded by people, I can't do a thing, and all he has to do is yell and a crowd will form, police will come, and it'll all be over. If he makes the street— and he's almost there—the only thing I can do is slink away.
The truth is, I can't make it. My lungs are stuffed with hot coals and my vision is shot. He's too far
ahead. If I had a gun I might shoot, but I'd surely miss and only make matters worse. I keep moving but I already know it's too late. I blink back the tears and I get a cloudy look at what's ahead. He's out of the alley and on the sidewalk now. I've lost.
Silverman jerks his head back for a look at me. I can't see his expression, but I'm guessing it's one of joy, or relief, or maybe even anger. Or is it still panic, and fear? But he turns again and keeps running, bumping into people but still running, past the sidewalk and right into the street.
A screech of brakes.
A loud thud.
A chorus of yells, screams and gasps break through the background hubbub. I slow to a walk, cross the sidewalk and join the crowd forming around the scene.
A lady lets out a wail of lament. The taxi driver leaps from his cab, his hands aflutter. In his thick
Pakistani accent and high voice, he tells the crowd it's not his fault. The crowd isn't listening, their eyes are all on the broken body nearly underneath the wheels.
"Call an ambulance!" a woman yells.
"Too late for that," someone else says.
I push through the gapers for a good look. The last voice was right. Blood is everywhere, and Silverman is not my problem anymore. The lady lets out a wail again, and I try not to smile with relief. I can't believe my good luck.
About the Author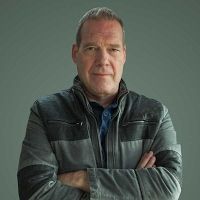 Peter Thompson grew up on the east side of Chicago, in the shadow of the steel mills where the air was sooty and smelled of sulfur. His life wasn't always so gritty, but the grit and realism finds its way into his thrillers. He has always loved stories of every kind, and one of his joys is finding a way to get inside character's heads, seeing the world as they see it and feeling their triumphs, pain, and fear. He visualizes his characters when he writes, and they are larger than life in the big screen of his imagination.
Before pursuing his passion and becoming a full-time author, he tried his hand at everything from factory work, breaking cement in a construction crew, running his own pizza shop, and he was a well-regarded presence in the mortgage industry for nearly thirty years. When he isn't writing, Peter loves, spicy food, live music, and exciting and thought-provoking books and movies. He is a fitness buff who loves to spend time with his grown sons and is looking forward to traveling the world and seeking adventures with his lovely partner.
To get in touch, find out more about future projects, please stop by authorpeterthompson.com. Sign up for his reading list to find out about new releases and receive free perks.